The Context
The Client, an Asset Management firm, wanted the TresVista team to roll forward the quarterly valuation models for various co-investments based on the information provided by the sponsor. The client wanted the team to use quarterly sponsor update reports, cash flow files that included the information about contributions and distributions for the quarter, and other supporting documents required to roll forward the models.
The Objective
To roll forward quarterly valuation models for various co-investments of an Asset Management client.
The Approach
The TresVista team followed the following process:
Updating Financials: Updated the quarterly financial figures such as Revenue, EBITDA, Net Debt, Cash, etc. from sponsor reports

Sponsor and LP Valuation: Calculated the sponsor valuation multiple from the Equity/ Enterprise Value given by the sponsor, and the amount invested along with the LP valuation multiple and included any cash flows for the quarter

Investment Performance Comparison and Operational Update: Compared the valuation multiples of Sponsor and LP and update any commentary for fluctuations from the previous quarter. Highlighted the key performance drivers and key strategic initiatives of the company – with quarterly and LTM financials.
The Challenges We Overcame
The major hurdles faced by the TresVista team were different preferences for rolling forward different models, incomplete and inconsistent information provided by the sponsor, formulae errors in valuation models, and delays in receiving information.
The TresVista team overcame these hurdles by going through each of the previous year's lead sheets to cater to each investment team member's preference. The team shared drafts anytime there was a delay in receiving information and corrected any errors in previous quarter lead sheets.
Final Product (Sanitized)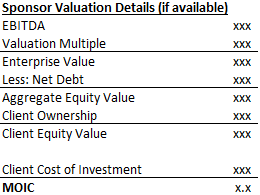 The Value Add – Catalyzing the Client's Impact
The TresVista team built an Executive Summary tab that summarized the key pointers to present to the valuation committee and a model guide that laid out the steps to roll forward the models that can be used as a reference by any analyst in the client's team. The team also maintains a tracker every quarter that helps the valuation team track the status of the deals in terms of submissions and sign-off.