The Context
The client, a Private Equity firm, wanted the TresVista team to prepare a monthly report tracking all the intercompany transactions made by the management company (advisors) on behalf of various funds/entities. This report would then be leveraged to communicate the intercompany transactions to the fund administrator every quarter.
The Objective
To have a systematic process in place to communicate all the intercompany transactions to the fund administrator to make sure all the receivables are duly accounted for, on the fund's side as well in their books.
The Approach
The TresVista team followed the following process:
Listed down all the receivables for the period and added supplementary information against them using General Ledger (GL)
Validated the data with additional information like invoices and email trails, and checked allocation using structure charts
Reclassified entries that were booked incorrectly while reviewing ceiling amounts with LPAs and LLCAs
Prepared the summary report to highlight the monthly activities and ending receivable balance for fund/account
Prepared the TNR uploader to communicate the accruals to the fund administrator, and prepared repayment entries
The Challenges We Overcame
The major hurdles faced by the TresVista team were:
Understanding the complex fund structures consisting of multiple master-feeder fund connections, along with entity flow of the entire company with its parent company, sister companies, external and internal investors
Deep diving into the accounting process followed and working on breaking down and cleaning up the records to derive the actual ending balance for various funds
Doing extensive research for the additional details from structure charts, invoices, and expense code list for preparing the report, since the GL did not suffice the data requirements
Identifying whether the receivables were to be booked against the accruals or the expenses and determining the allocation based on the transaction date
The TresVista team overcame these hurdles by preparing an excel tracker to highlight the entity-fund relationship and updating the same on an ongoing basis. Moreover, the team started saving all the relevant invoices related to the intercompany transactions, which were to be utilized at the time of preparing the report. Finally, the team performed a historical clean-up to align the fund and advisor's ending balances.
Final Product (Sanitized)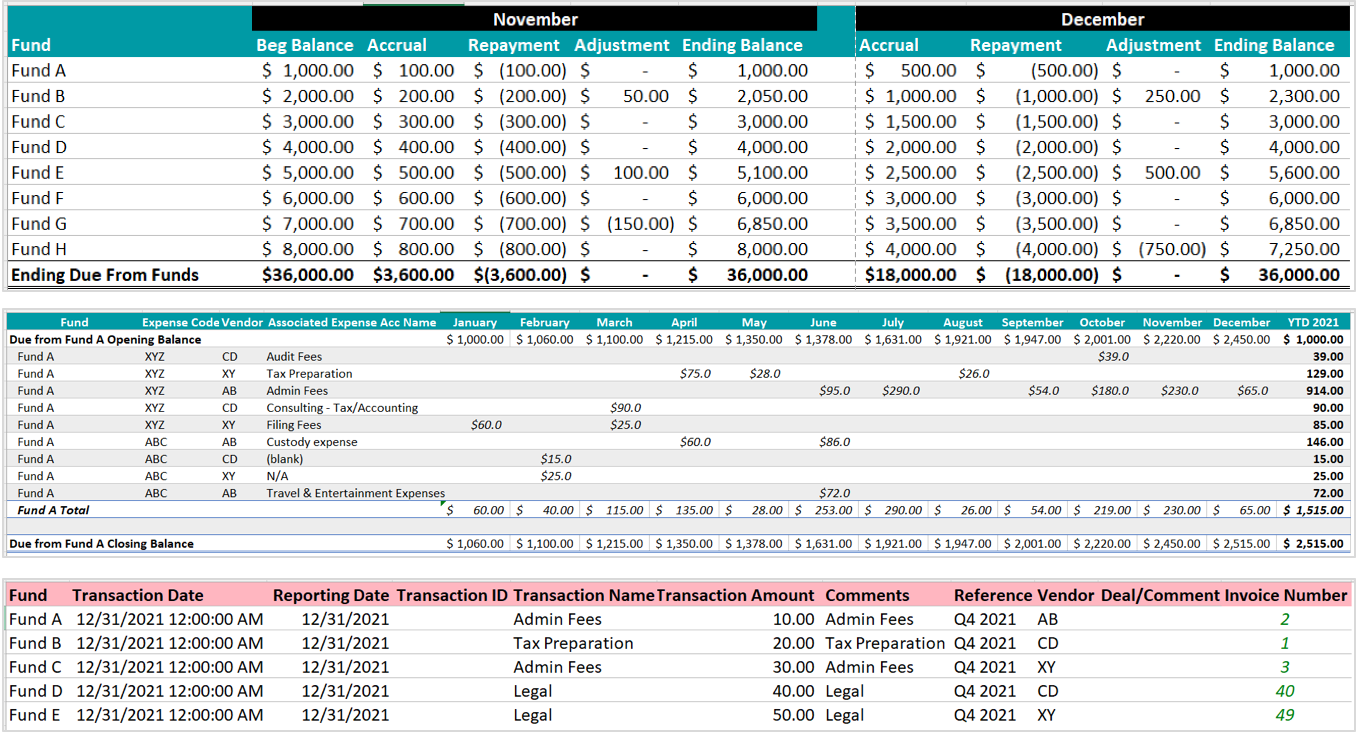 The Value Add – Catalyzing the Client's Impact
The TresVista team provided a summarized view of the monthly intercompany activities so that the client could get an overall understanding without having to go through the voluminous GL data. The team cleaned the complete accounting data in the GL to align them with the fund's books and reviewed the bookings for all the receivables against the entities and funds. Further, the team streamlined the process of communicating the receivables to the fund administrators in the TNR format. The team also determined the quarterly repayment amounts and prepared relevant repayment entries once they were deposited.