The Context
The client, a Private Lender firm, wanted the TresVista Team to create a 3-statement model for a tax lending company with supporting schedules. The client was a private credit lender focusing on corporate private credit-based out of New York. The client was approached with an opportunity to lend to a tax lending company in Texas. Though, the deal fell through during due diligence the client remained interested in entering the space by itself.
The Objective
To build a model that can forecast the profitability, break-even period, operating expenses, and the capital required to make the business self-sustainable.
The Approach
The TresVista Team followed the following process:
• Created a "Drivers Tab" to house all the assumptions and schedules to forecast the income statement line items
• Created a separate schedule to determine payroll expenses as the number of employees and bonuses were relative to the change in originations and backlog of existing loans
• The model consisted of separate tabs for debt and equity calculation. The loan financing schedule included the inflow from the bank and the client to fund the tax loans. The equity schedule included the inflow to fund the working capital needs of the business
• The Return summary tab showed expected unlevered and levered returns for the client, IRR, MOIC, and profit for the bank (leverage line), chairman, and the client
The Challenges We Overcame
The major hurdles faced by the TresVista Team were:
• Circular reference arising in excel
• Figuring the client's returns for different investment modes
The TresVista Team overcame these hurdles by recycling the capital invested to calculate the accurate funding amount. The team created a cash flow waterfall table to avoid circular references. Furthermore, the team separated the "Opex Equity Line" and the "Loan Equity" line. Additionally, the team ensured that bank debt was not paid down through the client's equity lines in the model.
Final Product (Sanitized)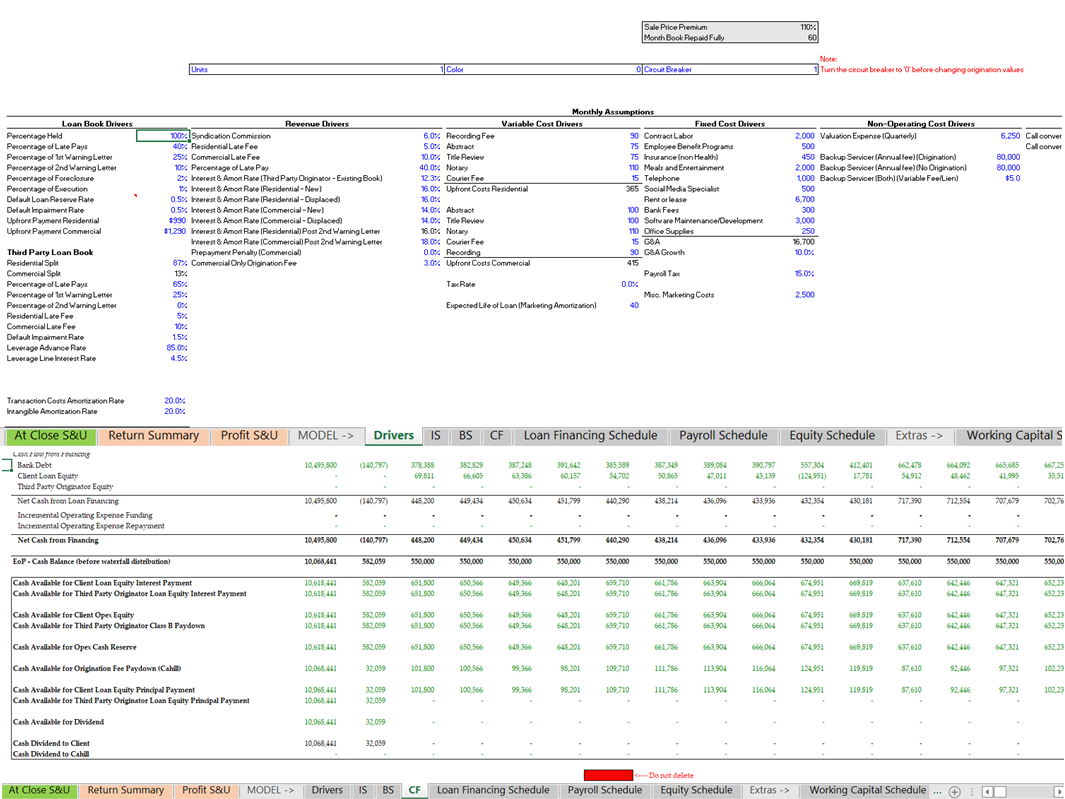 The Value Add – Catalyzing the Client's Impact
The TresVista Team created a flexible and easy-to-understand model with a visible data flow. The team maintained a comprehensive structure and layered the inputs (not embedded) of complex formulas to make the output more dynamic for the client.