The Context
The client, a Private Equity firm, wanted the TresVista Team to create an automized tear sheet using their CRM platform for every company. To standardize the content on tear sheets, the client asked the TresVista team to identify the essential points from the call notes and summarize them for each interaction. Additionally, the client asked the team to remove the duplicated interactions present on their CRM through this process.
The Objective
To create an automized tear sheet for every company using the client's CRM platform, which would help the client's marketing team understand the background and track the fundraising activities with the LP.
The Approach
The TresVista Team followed the following process:
Exported the excel from the CRM database and formatted it according to the guidelines provided
Paraphrased the 'body' of interaction by identifying the key points from the call notes, enabling the client to gauge valuable information from a concise data
Verified and added data, including ownership structure, parent/subsidiary, professional history, etc., through the company website or other sources
Updated value-added information, call notes, and relevant documents linked to the interaction in their respective fields on CRM
The Challenges We Overcame
The major hurdles faced by the TresVista Team were:
Identification of critical points and summarizing the call notes as there were many terms and abbreviations which could be wrongly interpreted and hence change the entire meaning of the note
Unavailability of set formats, case studies, or training material for reference
The team overcame these hurdles by establishing effective communication to understand the critical points the client was expecting in the tear sheet. The team also sent work in progress (WIP) files and took the client's feedback at regular intervals.
Final Product (Sanitized)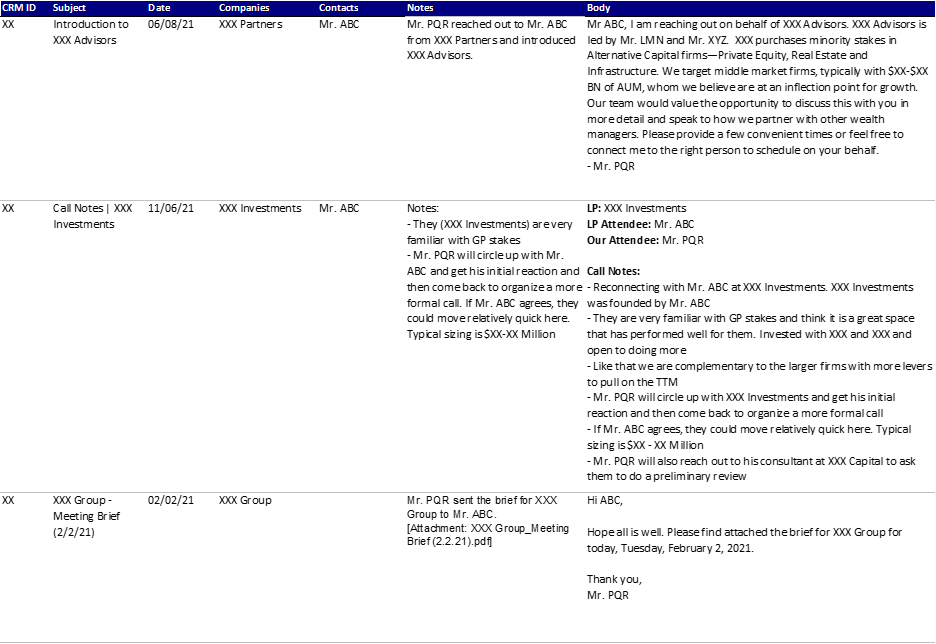 The Value Add – Catalyzing the Client's Impact
The TresVista Team gave the client suggestions to formulate a template for maintaining the call notes. Additionally, the team rectified the interactions with wrongly tagged LP/GP on CRM.