The Context
The client, a Family Office, requested the TresVista Team to model the investment returns using the Venture Capital method and perform a scenario analysis for an e-commerce Florist business. The client wanted to run the scenario analysis in the management financial model shared by the company to determine how various line items are affected under a given set of assumptions.
The Objective
To perform sensitivity analysis on the model provided by the company management and add scenarios as per the investment in Seed, Series A, and Series B rounds. The client wanted to maintain at least 10% ownership and grow its ownership in the Series A and Series B rounds.
The Approach
The TresVista Team followed the following process to perform the analysis:
Developed a base and conservative case in the financial model
Applied the Venture Capital method for valuation, which involves:

Estimating an exit price for the investment
Back calculating the post-money valuation today by taking into account the time and the risk factor involved in the investment
Estimating the return on investment

Prepared a capitalization table to determine the diluted ownership at each investment round
The Challenges We Overcame
The following were the hurdles faced by the TresVista Team:
The valuation and returns in Venture Capital are based on subsequent funding rounds in future. The valuation at each round is based on assumptions regarding price per share, number of investors, and the size of the round, all of which were not determined at this stage
The discount rate determination is subjective as the perceived risk varies among investors. As there is no fixed method for assessing the risk associated with the subject business, the Venture Capital method can produce wildly varying results between investors
Final Product (Sanitized)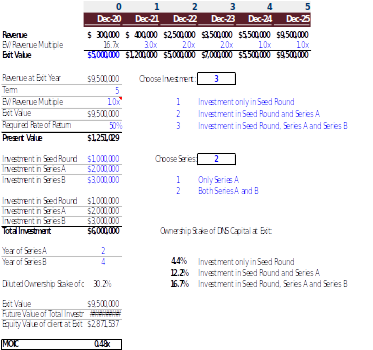 The Value Add – Catalyzing the Client's Impact
The TresVista Team shared a flexible model with the client with the functionality to see how ownership and valuation change in each investment round, including the rounds where the client does not invest. The model provided the client with a framework to analyze other start-up firms in the future.