The Context
The client, a Private Equity firm, wanted the TresVista team to create an IC Deck on the opportunity and assist them with a variety of tasks and requests, such as industry research, comparable analysis, valuation, financial modeling, presentation, etc., which are shared with the LPs.
The Objective
To assist the client in different aspects of the deal ranging from deal overview to creation of the final IC Deck.
The Approach
The TresVista team followed the following process:
Deal Diligence: Conducted desktop research for companies/industries of focus including the analysis of the US Car Wash industry along with analyzing major players

New Deal Summary: Conducted peer comparable analysis (Public & Precedent Comps) for the asset in the deal and analyzed the assets' business-related data

Prelim IC Deck: Prepared Prelim IC deck for the client's senior management, which covered all the aspects of the deal including fund and roll-up models

Final IC Deck: Prepared a final IC deck for the LPs that focused on every aspect of the deal from overview to detailed business and returns analysis
The Challenges We Overcame
The major hurdle faced by the TresVista team was difficulty in identifying the pure-play competitors. The large quantum of consumer data made the analysis of data and its representation a challenging exercise. The team was working on multiple deliverables at the same time, including another live deal and its Quarterly Portfolio Update exercise, making workflow management challenges.
The TresVista team overcame these hurdles by conducting extensive research on the Car Wash Industry in the US and understanding how the industry functions with the help of various broker and industry reports. For the data analysis, the team moved data from the file into smaller excel files to refine it and analyze the data individually. It also removed the outliers from the data after that to show a uniform trend in its analysis.
Final Product (Sanitized)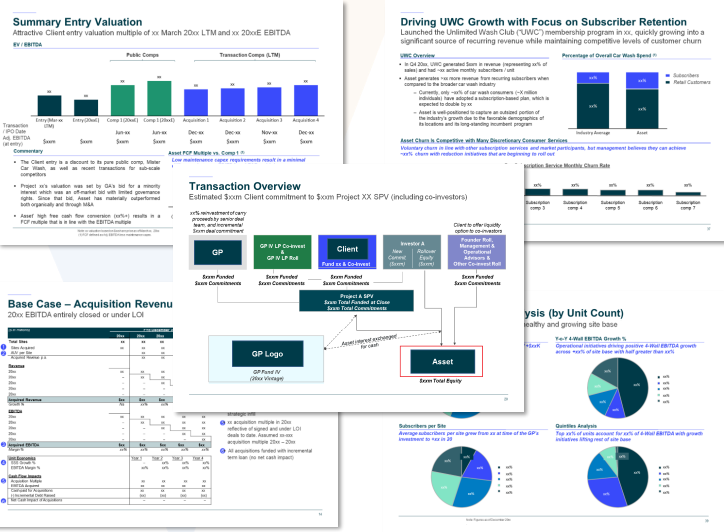 The Value Add – Catalyzing the Client's Impact
The team assisted in analyzing the churn rate and providing a perspective on the historical performance of Greenfield as well as Brownfield investments made by the company. It added an extra layer of due diligence on the post-Covid industry and market growth which helped the client to get a more refined perspective on the deal. The client was able to comprehend the stability in the performance of these businesses in a better manner through fixed subscription income streams attributable to careful research of the subscriber-led market and its influence on the Car Wash players with the assistance of the TresVista team.