The Context
The client, a Private Equity firm wanted the TresVista team to conduct research on the DevOps Software industry with major focus on identification of investable segments and potential targets. The client provided the team with two criteria:
Target screening criteria included only those companies that are in the "mature or late stage" and not owned by strategic players, selected if any of the below holds true:

Raised funding at least till Series D
Owned by financial sponsors (Buyout occurred before 2021)
Publicly listed for PIPE transactions

Other Mandatory Criteria included Revenue of more than $75.0mm and less than $1.0bn and Enterprise Valuation of more than $500.0mm
The Objective
To deep dive into the DevOps Software industry, identify attractive segments and narrow down actionable targets.
The Approach
The TresVista team followed the following process:
Market Sizing: Estimated market opportunity and identified drivers and trends
Segmentation: Segmented the industry based on type of function performed by the software
Sentiment Analysis: Identified attractive segments based on growth, actionable targets & market dynamics
Screening: Screened companies based on client criteria and identified potential targets
Target and Watch List Preparation: Split the potential targets into immediate focus and long-term watch list
The Challenges We Overcame
The major hurdles faced by the TresVista team were:
Requirement to build technical knowledge on the topic, research on different jargon and getting used to various inter-changeable terminologies
Market sizing of each individual segment in the industry, scarce data on industry wide sales and growth
Difficulty in Identification of trends and market share estimation, and subjective decisions for market dynamics attractiveness in the Sentiment analysis
Segmentation post target identification as most targets had presence across segments which needed to be classified on the basis of primary service offered
The TresVista team overcame these hurdles by deep diving into the industry, services offered, typical end users, problems solved by services in the development process and understanding the life cycle. Additionally, the team focused on finding similar services offered in different industries to act as a proxy and read through expert opinion on the industry.
Final Product (Sanitized)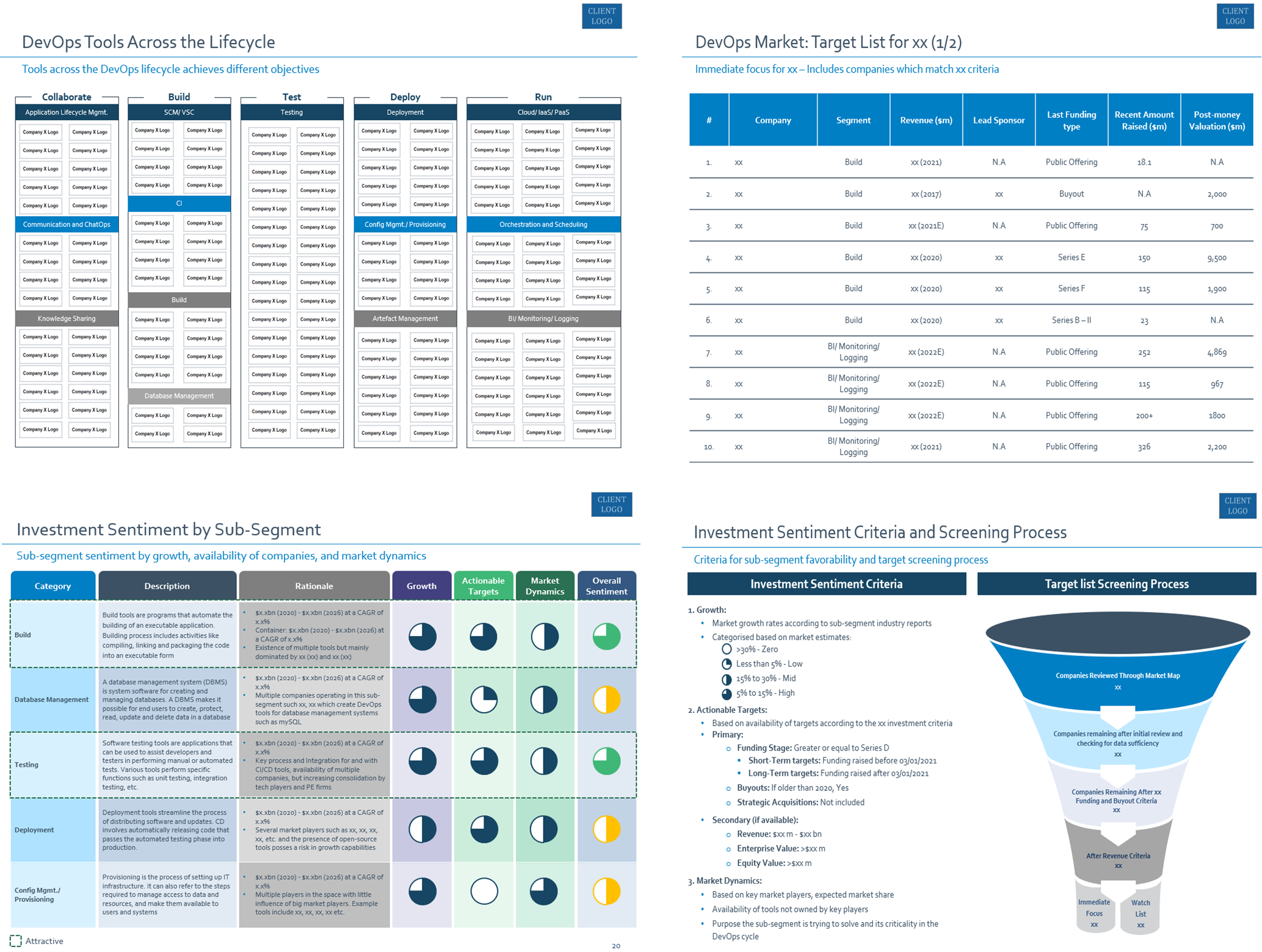 The Value Add – Catalyzing the Client's Impact
The TresVista team provided a comprehensive view of the industry, with major companies in each segment displayed via a Market map. Additionally, the team provided a second target watch-list, which would serve as a repository to the clients for monitoring those targets that might become actionable in the future. The team also specified reasons for acceptance/rejection for every company screened, which could be a useful touch point for future reference.