The Context
The client, a Venture Capital firm wanted the TresVista team to build a list of venture-backed companies headquartered in India with post-money valuations between $80Mn – $2Bn, Verticals like Agri-tech, B2B or Enterprise SaaS, D2C, Fintech (Non-Lending), Food-tech, Health-tech, Insurance-tech, Logistics, and Pure-play tech, a seasoned founder or founding team and Marquee growth-stage investor list. The shortlisted companies were neither supposed to be a part of the client's portfolio companies nor of the competing business.
The Objective
To finalize a pipeline of companies that could be considered for further diligence.
The Approach
The TresVista team followed the following process:
• Data Gathering: Used Factset and Preqin databases to find a universe of companies that might fit the criteria
• Screening and Desktop Research: Checked the data for accuracy regarding HQ and valuation as well as confirmed if the company fits our criteria
• Analyzing: Analyzed the data to find if the company has a seasoned founder and marquee growth-stage investor list as per our requirement
• Final Deliverable: The final deliverable included all the companies which are headquartered in India with a valuation between $80Mn-$2Bn which fits our criteria
The Challenges We Overcame
The major hurdle faced by the TresVista team was the inconsistency of data from Preqin and the publicly available market data. Further, companies under the verticals had a tech-focused revenue model, companies had to deal with AI to be included in health-tech and logistics verticals mainly including companies that had a B2B model. Desktop search for valuation was difficult due to the scarcity of public information. There was also a discrepancy between the founders shown on LinkedIn and other sites like YourStory, Crunchbase, and Tracxn.
Final Product (Sanitized)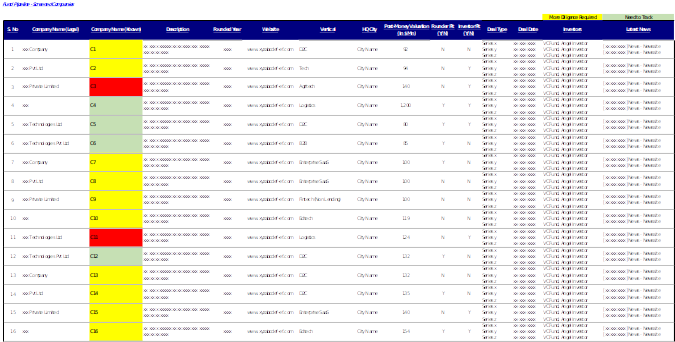 The Value Add – Catalyzing the Client's Impact
The TresVista team pulled out the list of top 50 VC and PE firms with investments in India to find their portfolio companies and provided the latest news on the companies in areas of management changes, regulation impact, and strategic partnerships which helped the client in making decisions on tracking the company and selecting the company. The team recommended the approach to finding Founder Fit and Investor Fit and worked with the client to classify companies according to the client's familiarity with the company and the level of diligence that they would require.