The Context
The client, an Investment Bank, wanted the TresVista team to prepare a financial model leveraging various bids received for a sell-side mandate and calculate a realistic consideration at which the potential buyers value the mandate. The client also wanted the team to analyze different bids based on closing considerations along with retention payments & earnouts and create a summary providing all the metrics like EV/EBITDA, EV/Revenue, Total Consideration, etc. Moreover, the client requested the team to evaluate the considerations payable on future dates and the PV of those payments to make bids comparable.
The Objective
To analyze and model various bids received for a sell-side mandate to arrive at a realistic and comparable valuation.
The Approach
The TresVista team followed the following process:
Understanding the Indication of Interest Documents: Understood the nuances mentioned in the Indications of Interest (IOI) document like earnout conditions etc.
Creating a Financial Model: Created a financial model and incorporated every bid with different niceties to achieve comparable results
Calculating and Comparing Valuation Metrics: Calculated a comparable multiple to analyze various bids and decide the most suited one
Graphical Representation: Created a chart to compare various bids and present a summary of all bids
Preparing Management Update Deck: Compiled all the resultant multiples and considerations to prepare the Management Update Deck
The Challenges We Overcame
The major hurdles faced by the TresVista team were:
Each IOI document had numerous technicalities mentioned which were complex and needed a deep understanding of the bidding process
The project was on a tight deadline and a quick turnaround was needed
The TresVista team overcame these hurdles by conducting a thorough analysis of all the bids. All the covenants were understood individually, and formulae were built to cater to all the covenants.
Final Product (Sanitized)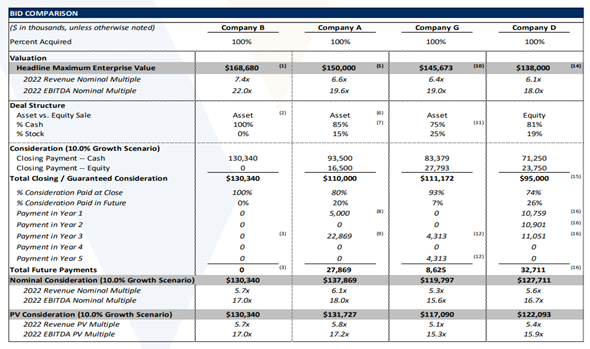 The Value Add – Catalyzing the Client's Impact
The TresVista team added value by providing a summarized view of all the bids along with a visual representation of the multiples associated with the valuation. Later, the team also created a detailed SOP for the project for new analysts, joining the client or the TresVista team.