The Context
The Compensation and Benefits team wanted the TresVista team to develop an automated process where offer letters for various departments, designations, and locations would be created and mailed to the candidates.
The Objective
To build and develop an end-to-end automated process to reduce manual effort and the probability of human error.
The Approach
The TresVista team followed the following process:
Data Consolidation: Consolidated candidate details from multiple sources like MS-Forms & TVOV2 into a single table

Offer Letter Creation: Created the offer letter using Power Automate by incorporating relevant candidate and compensation details

Email Trigger and Offer Letter Storage: Triggered an email with the offer letter and LOA attached to each new joiner, and saved them in SharePoint
The Challenges We Overcame
The major hurdles faced by the TresVista team were consolidating data from multiple sources, maintaining required confidentiality for different types of data, data manipulation, and creation of different offer letters for different departments, designations, and locations.
The TresVista team overcame these hurdles by implementing various tools and technologies to automate the process with limited human interaction. The team created an excel file in SharePoint with candidate details by automatically consolidating Microsoft Forms, which then fetches the remaining data from TVOv2 and generates an offer letter depending on designation, department, and location.
Final Product (Sanitized)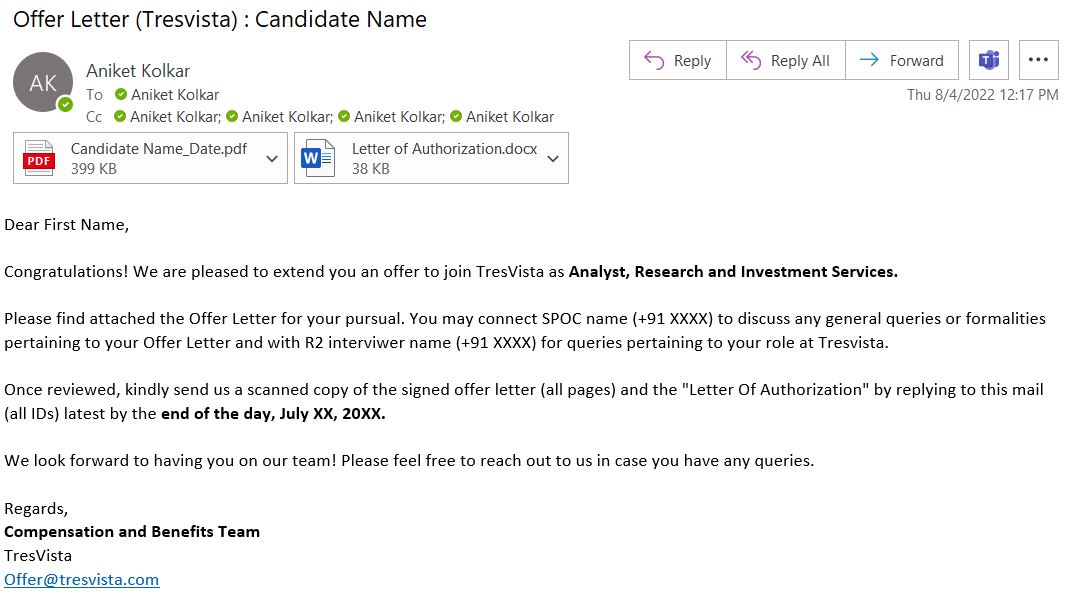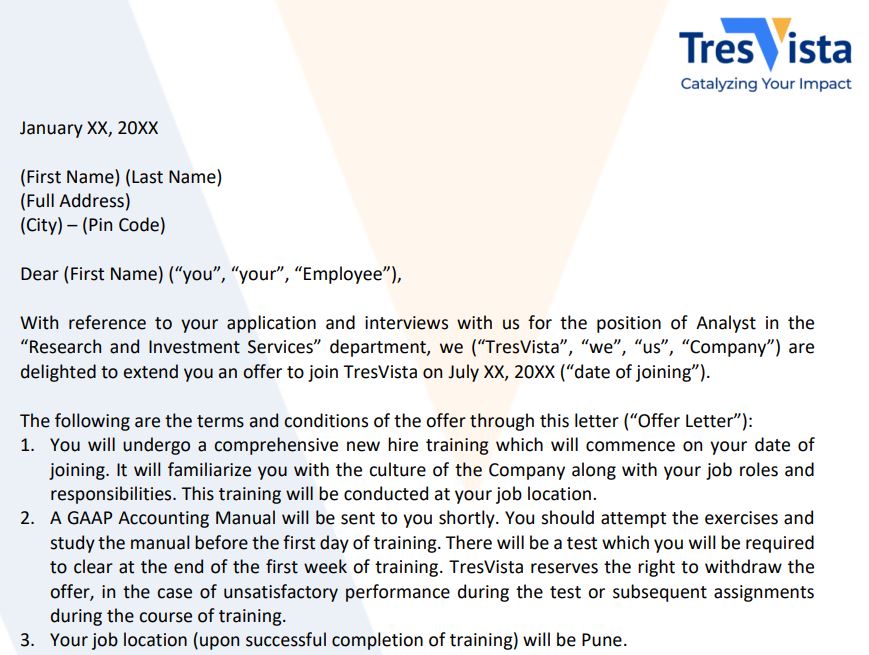 The Value Add – Catalyzing the Client's Impact
The TresVista team developed an automated process to reduce the time required to generate and email one offer letter to ~1min from ~25 mins previously, thereby increasing efficiency by more than 90% and minimizing the chances of human error while generating the offer letter.