The Context
The client, a Sovereign Wealth Fund, wanted to understand the semiconductor ecosystem and its value chain to enter the low capex segment. The client wanted to understand every segment of the ecosystem in detail and requested a recommendation from the TresVista Team as to which segment would be more feasible for them to enter.
The Objective
To conduct a study on the semiconductor ecosystem and recommend which segment would be more feasible for the client to enter.
The Approach
The TresVista Team followed the following process:
Studied the semiconductor value chain
Analyzed every segment in detail to understand the segment's various characteristics, such as contribution to the industry, the market size, expected growth, capex requirements, key players, etc.
Arrived at the low-cost segment, which could be feasible for the client to enter based on the comparison
Provided the client with specific details of different countries that set up an ecosystem, such as the focus area, synergies (Why the country chose a segment), recent updates, and the government's effort in setting up an ecosystem
The Challenges We Overcame
The major hurdles faced by the TresVista Team were:
Finding relevant data for sub-segments in the semiconductor ecosystem due to the scarcity of the data
Due to time constraints and the complexity of the research, choosing between a wide range of topics to cover or delving deeper into a topic was challenging
Studying semiconductor ecosystems of different countries and comparing them was tricky due to the unavailability of the data and the complexity of the ecosystem
The team overcame these hurdles by conducting desktop research to understand the different segments of the value chain and condensing all the information together for each segment.
Final Product (Sanitized)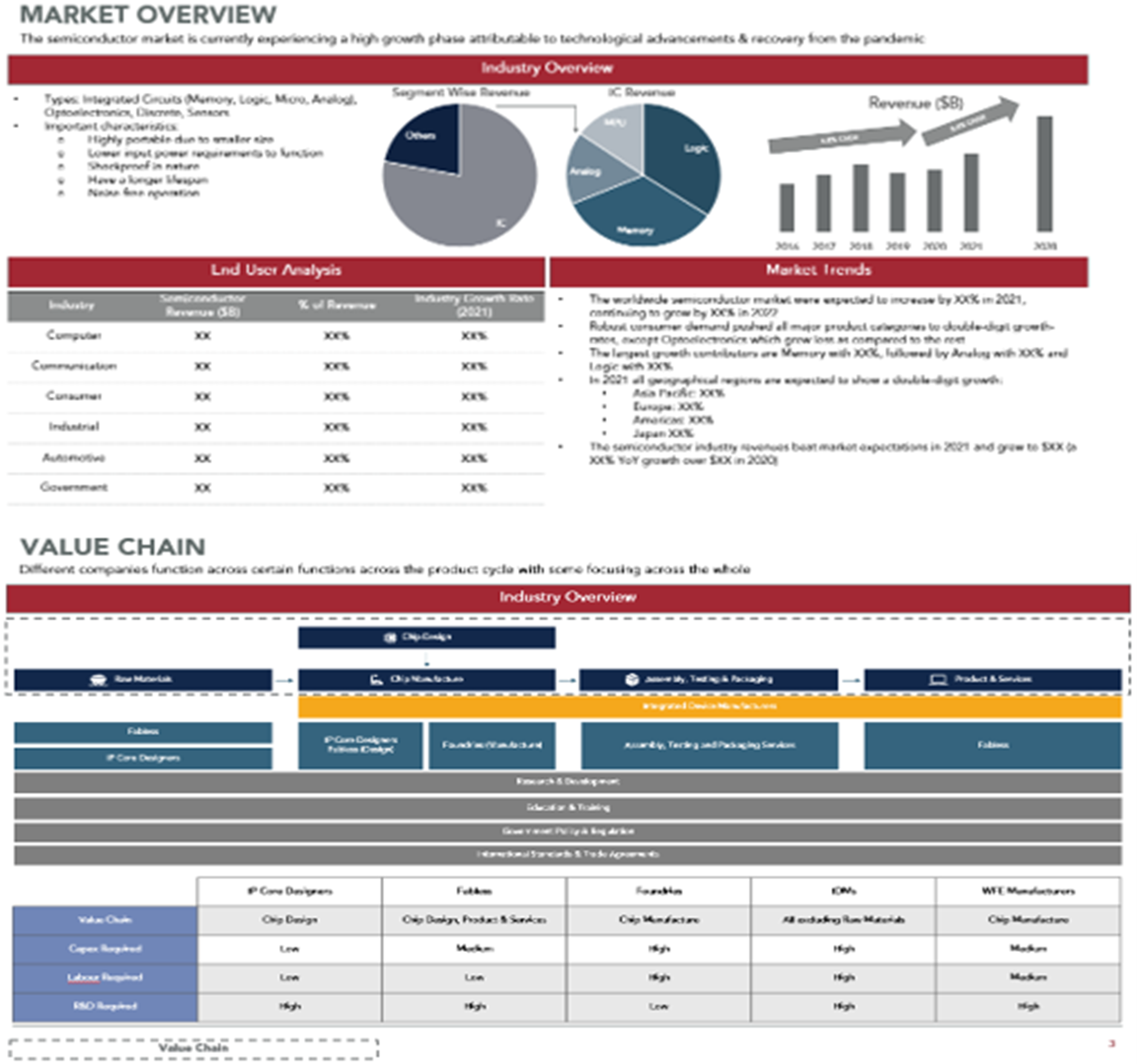 The Value Add – Catalyzing the Client's Impact
The TresVista Team recommended the client to make policies that make investments in the semiconductor space attractive. Additionally, the team recommended that the client set up a JV with an established player in the chip design segment, which will kick-start the ecosystem.