The Context
The client, a listed US-based FinTech firm wanted the TresVista team to conduct research on the Digital Payment industry's presence across the requested geographies and, present each region's macroeconomic/demographic data, industry-relevant trends, regulatory landscape, determine priority regions and identify potential targets for such geographies. The client also wanted the team to create an industry landscape for the priority regions and profile their potential targets highlighting competitive edges, determining the corporate network integrations, and reviewing regulatory advantages to aid to the dealmaking process.
The Objective
To create a geography-focused industry and target research, leading to further deal involvement via investment memos, comps, and product analysis.
The Approach
The TresVista team followed the following process:
Geography Research: Gathered industry-specific data, trends, and regulatory insights concerning multiple geographies
Target Identification: Determined priority regions based on macroeconomic review and noted geography-wise potential targets
Industry Landscaping: Prepared industry landscape decks for priority regions, covering trends, market distribution & concentration, and major players
Target Profiling: Created profiles for targets sourced from the decks, covering their offerings, financial metrics, and strategic insights
Deal Involvement: Contributed to live target acquisitions & investments via investment memos, industry research, valuation comps, and more
The Challenges We Overcame
The major hurdles faced by the TresVista team were:
Nascent Stage: Limited revenue generation capabilities of the prospects at the current stage made it challenging to strike a balance between potential and profitability
Limited Organized Data: Lack of structured financial information and competitive research for the selected targets, owing to the private nature of such companies
The TresVista team overcame these hurdles by leveraging several user metrics (MAUs, Total Users) as an alternative to evaluate the potential targets (EV/MAU and EV/Total Users). Additionally, the team executed a LinkedIn search with relevant filters (primarily employee count, along with broad industry & geography filters) to determine players with offerings similar to that of the potential targets. Larger market players were identified, and their historical fundraising rounds were incorporated as proxies for the EV/User comps, post matching their past users with the target's current users.
Final Product (Sanitized)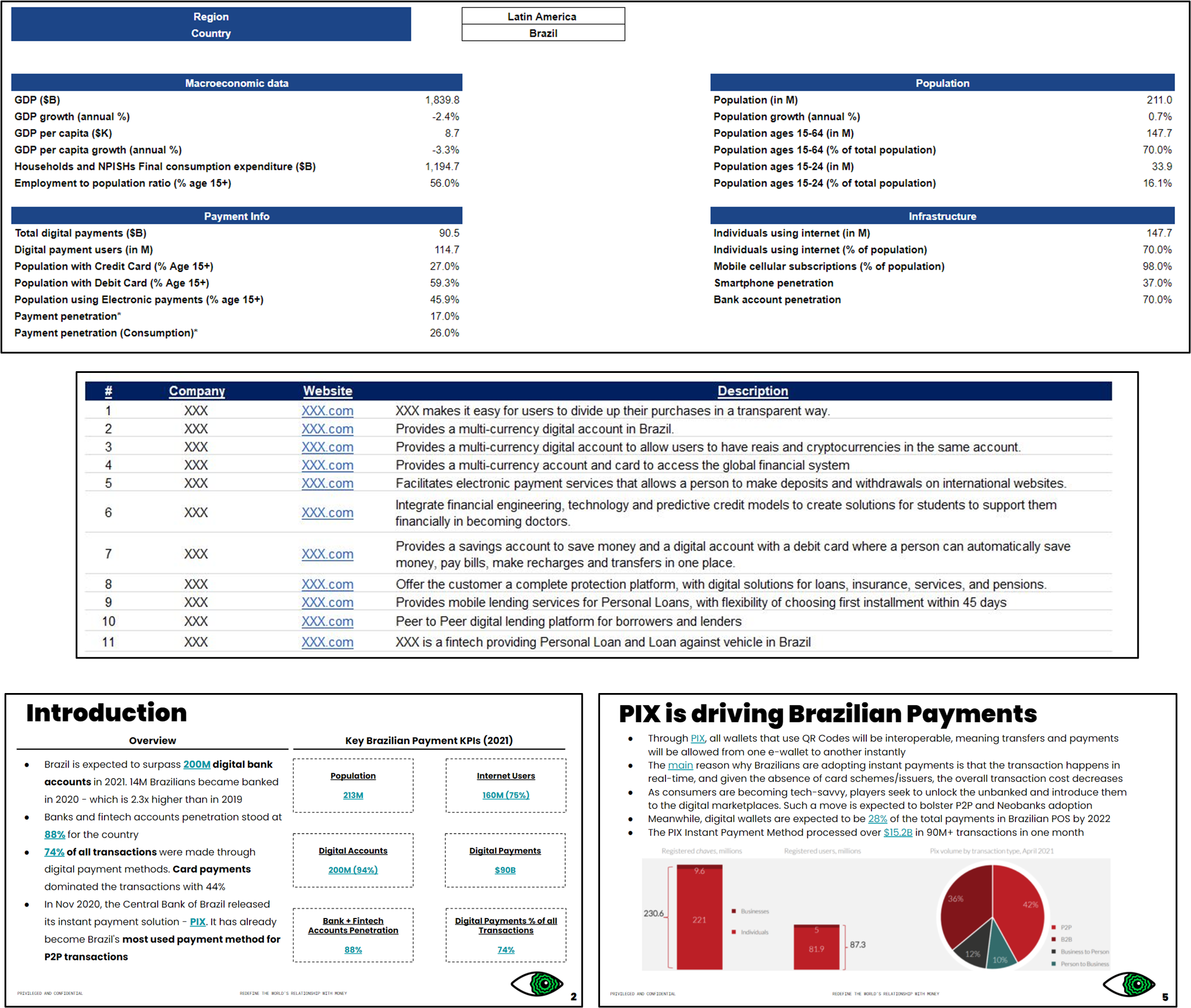 The Value Add – Catalyzing the Client's Impact
The TresVista team added value by developing contextual processes/trackers for regulatory info and competitive benchmarking (investment memos, competitive benchmarking, target profiles, regulatory information, industry trends, public, M&A, and private funding comps and strategic rationale for acquiring/investing in/partnering with potential targets) which supported the client's investment.