The Context
The client, a Chicago-based Hedge Fund, focused on Longevity-linked investments such as life settlements and annuities. The client wanted the TresVista Team to track the performance of their funds during a volatile period in the traditional markets based on relevant metrics and help identify the major competitors in this space.
The Objective
To track the funds' performance based on relevant metrics and provide an overview of the competitive landscape in the life settlements domain.
The Approach
The TresVista Team followed the following process:
For tracking the funds' performance, the TresVista Team identified and covered 27 metrics that helped highlight the non-correlation of the client's funds to the market and their stable returns, such as beta, alpha, correlation, standard deviation, and reward/risk ratios. These metrics also helped benchmark the fund's performance against the competitors.
The team identified additional competitors building on the client's initial list. They used databases like Preqin and combed through publicly available data to cover details such as background information, investment strategy, and recent developments
The Challenges We Overcame
The major hurdles faced by the TresVista Team were:
Providing quick turnaround and accurate calculations of metrics
Limited data availability for competitor fund performances
The team created a dynamic excel template that could be replicated for new funds to achieve accuracy while implementing the performance tracking mechanism. The team combed through publicly available data to identify funds that reported their monthly returns through factsheets, newsletters, etc. A systematic process was set up to add new funds to the spreadsheet whenever their performance became available on Preqin.
Final Product (Sanitized)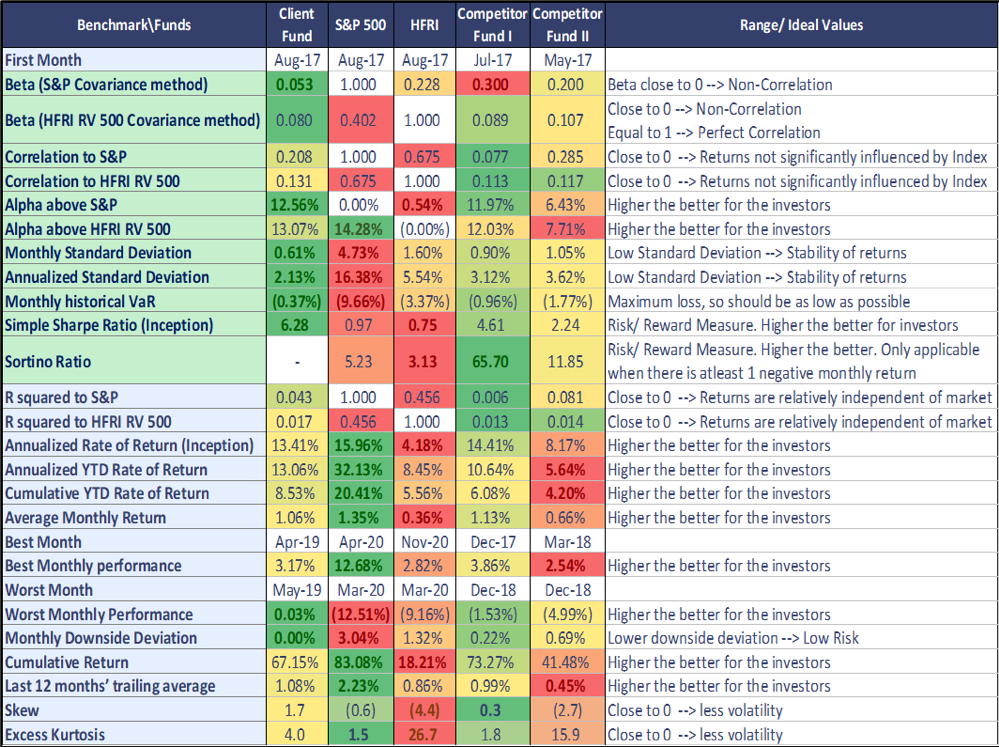 The Value Add – Catalyzing the Client's Impact
The TresVista Team added multiple metrics which showcased the non-correlated nature of the client's funds and combined that analysis with the competitive landscape into a single platform. The team automated the performance evaluation process by creating a replicable MS-Excel template that eliminated the manual errors and reduced the monthly execution time to less than 15 minutes. This automation saved the clients around 120 hours throughout the project.