The Context
The client, a private equity firm with ten portfolio companies across the consumer, industrial/business services, and financial service sectors, wanted to create a newsletter to track the industry trends, competitors, and new entrants in the industry.
The Objective
Create a newsletter with a focus on the U.S. based companies, covering news and insights on competitors and their partnerships, new contracts, ongoing transactions, and any specific industry updates that would impact the client's portfolio companies. The TresVista Team was also tasked with identifying potential targets.
The client shared an overview of the industries, the portfolio companies, and a few samples for the newsletter. They also their outlook on the short and the long-term investments.
The Approach
After finalizing the format of the newsletter, the TresVista Team got up to speed on the client's portfolio and their corresponding markets, and mapped the trends along with the activities of the prominent players. Articles were prioritized after discussing with the client for all the updates related to the sectors to be analysed.
The industries covered in the newsletter were based on the client's portfolio companies. The TresVista Team captured the market trends, competitors, regulatory updates, new product launch, geographical expansion, entry of new players, M&A, key industry metrics (for e.g. occupancy, RevPAR, and ADR for the hotel industry), etc. in the newsletter.
The Challenges We Overcame
Prioritizing the articles based on their importance was a key hurdle. The TresVista team conducted research on market trends, the client's competitors, and read news articles, after which the analysis was a lot smoother.
The Takeaways
These newsletters helped the client make strategic decisions such as:
• Closing of one of the laundry facilities of the portfolio company due to slack in demand
• Acquiring new strategic players to enhance their portfolio
• Profiling and analyzing companies/competitors
The Final Product (Sanitized)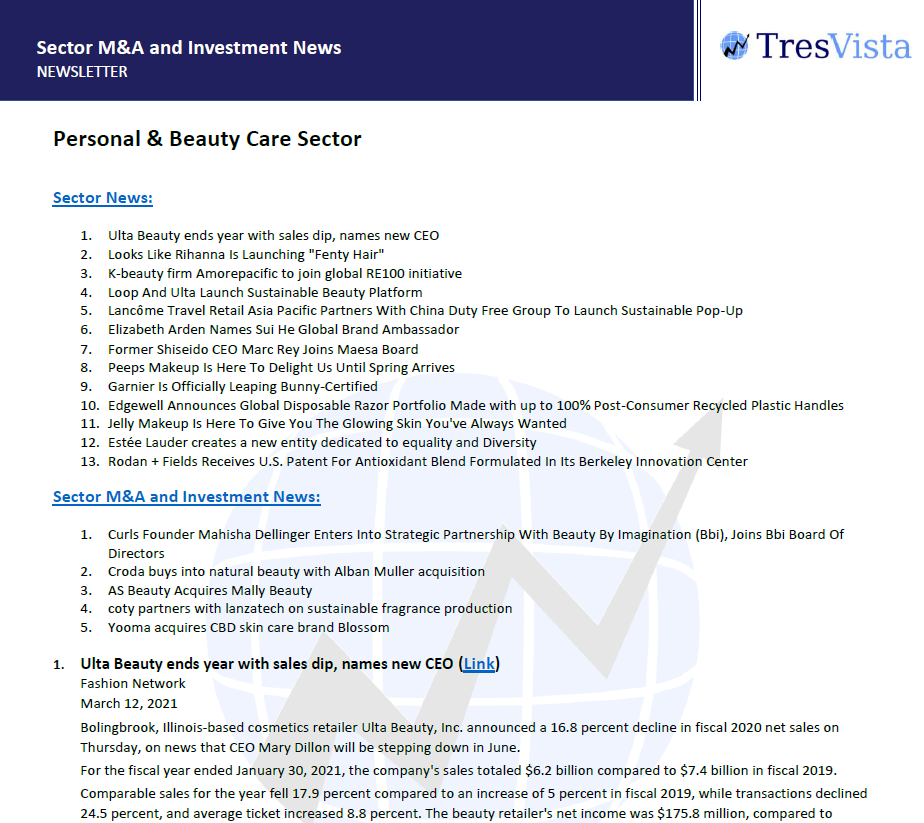 Value Add – Catalyzing the Client's Impact
The TresVista Team prioritized the news based on the client's focus to provide precise and relevant information in the newsletter. News related to new entrants in the market was added to the newsletter which helped the client better understand the competitive landscape.