The Context
The client, a U.S.-based Private Equity fund, wanted the TresVista Team to prepare capital call pushdown entries to book the contributions till the feeder level. This was based on their fund structures, i.e., Blockers (Corporation set up to invest in a company that is a pass-through for tax purposes) and Feeders (Investment vehicle that pools capital commitments of investors and invests or "feeds" such capital into a Blocker). The end goal for the client was to make sure that the investors' portions were allocated properly for each entity.
The Objective
To prepare a pushdown for contributions/distributions for each fund structure and their respective entities.
The Approach
The TresVista Team started with understanding the accounting software and booking entries to allocate contributions till the feeder level
The team understood the fund structure and related check files to make sure that correct amount was allocated to investors as per their commitment ratios
The Challenges We Overcame
The major hurdles faced by the TresVista Team were:
Understanding the fund structures in conjunction with technical terms used in the PE industry
Developing an in-depth understanding of new accounting platforms used for accounting purposes
Understanding the fund flow and accounting procedure before booking the entries
Ensuring investors' portions get correctly allocated based on their capital commitment at respective entities
Since contributions/distribution could involve various caveats/conditions, the TresVista Team had to go through each of them and their related structures to ensure that the process was working correctly. After spending sufficient time preparing pushdowns, the TresVista Team could chalk out and quickly glance through to ensure that the task was completed efficiently and accurately.
Final Product (Sanitized)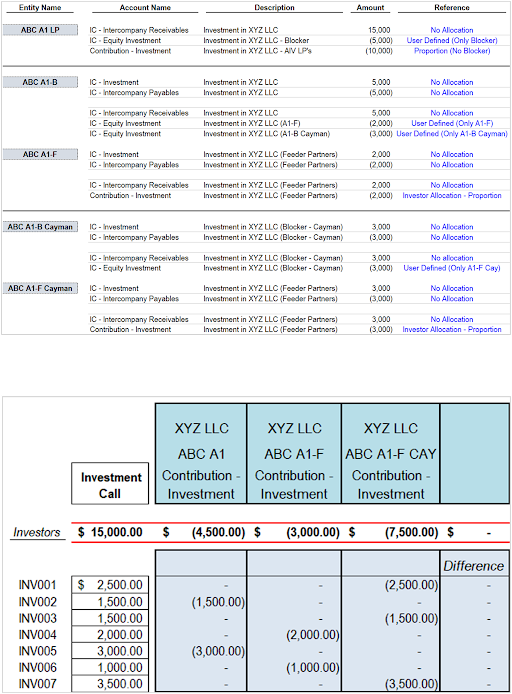 The Value Add – Catalyzing the Client's Impact
The TresVista Team streamlined the processes to ensure systematic completion and creation of check files to ensure investors' portions were accurately allocated at the individual entity level. The team developed new and innovative techniques/methods to complete the extensive and time-sensitive project within the designated time. This resulted in the client saving approximately 10 to 15 hours per quarter on this task and enduring a smooth closing.