The Context
The client, a London-based private investment and advisory group, requested the TresVista Team to prepare a financial model for a New Zealand-based residential housing construction SaaS start-up. The client was advising the SaaS company in raising capital and pitching to investors. The target was coming out with a one-of-a-kind unique software offering, for which the client needed everything from an operational model, to financial statements.
The Objective
To create a robust business and financial model for the residential housing construction SaaS start-up.
The client shared the basic framework for the model consisting of 11 products, 9 target customer groups, 5 geographies (New Zealand, Australia, United States, United Kingdom, and Canada), and a quarterly roll-out plan
The Approach
The TresVista Team followed the following process:
• Connected with the client to understand the business model, product and customer mapping, and revenue model of the target company
• Built the revenue and cost structure using dummy financials
• Conducted research for builder statistics, housing starts, and geographical construction statistics, and prepared the staging sheet with actual numbers flowing through the model
• Incorporated the timing of the products being rolled out in various countries at different stages to get a holistic view of the position of the firm over the years
• Forecasted the future years using the revenue growth and margin trajectory of major SaaS companies for the past 11 years
The Challenges We Overcame
As the clients' target firm was introducing a unique product in the market, the TresVista Team predominately faced challenges in understanding the business model, the target market, determining the Total Addressable Market (TAM), and pricing of the productbusiness model, service offering, pricing strategy, Total Addressable Market (TAM), etc. Finding relevant data and statistics of smaller builders was another major hurdle faced by the TresVista Team. To overcome these hurdles, the TresVista Team worked with the client to figure out the business model, understand the service offerings, and pricing strategies of different products.
Final Product (Sanitized)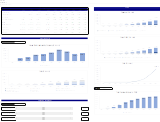 The Value Add – Catalyzing the Client's Impact
The TresVista Team helped the client determine the forward-looking EBITDA margins for the target via a comparable analysis of 9 major SaaS companies. The team also included a sheet which calculated all the important SaaS metrics such as LTV (Customer Lifetime Value), CAC (Customer Acquisition Cost), and the LTV to CAC ratio.