The Context
The client, currently operating in B2C segment, wanted the TresVista team to prepare a three-statement operational model based on which the client would raise their second round of funding. The client also planned to expand into different business segments – such as B2B segment, subscription-based segment, events/workshop-based segment, etc., for which the TresVista team was asked to suggest new revenue opportunities and identify the revenue and growth drivers of the prospective business segments.
The Objective
To create an operational model and list down the revenue drivers for the new business segments the client wanted to expand into.
The Approach
The TresVista team followed the following process:
The team went through the industry reports, and annual reports of the peers to understand the industry and arrive at the revenue drivers
The team then referred to client's pitch deck and the investment memo to understand their business better and provide rational assumptions
Post that, team built the revenue assumptions based on demand and supply approach
Finally, the team used the DCF approach to arrive at the valuation
The Challenges We Overcame
The major hurdles faced by the TresVista team were:
The client operated in a very niche industry which made it very difficult for the team to get relevant information about the industry and its peers
Not many relevant reports and articles were available
The team overcame these hurdles by leveraging calls to collate all the relevant information from the client to understand their business model better and provide rational assumptions.
Final Product (Sanitized)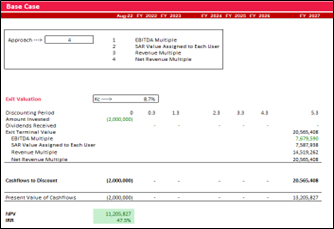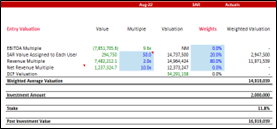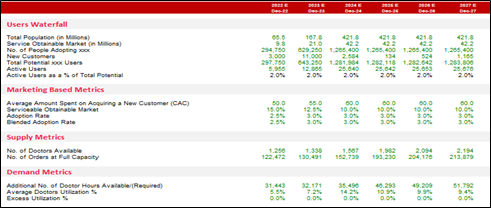 The Value Add – Catalyzing the Client's Impact
The team provided toggles for selecting the valuation approach, currency, units and scenario assumptions. TresVista team also created a cap-table, providing information regarding pre and post investment ownership stake and value of the investors. The sources and uses section created helped the investor to understand and decide on how the invested funds were going to be used for capital expenditures, marketing costs, etc. The geographical breakdown was also provided that enabled the client to understand how different markets are performing and helped them analyze their business better.