The Context
The client, a US based Private Equity firm that focuses on investing in high growth businesses in the lower middle market, needed the TresVista team to understand the rationale for the fall in sales volume of one of its portfolio companies. The client provided TresVista with a data dump and wanted the team to perform a set of analyses that could help them solve this problem. The team was also asked to evaluate a potential add-on acquisition for the company.
The Objective
To conduct a detailed analysis to understand the rationale for the fall in sales volume, along with further evaluation of a potential add-on acquisition.
The Approach
The TresVista team followed the following process:
Cleaned and organised the data provided to make it consistent for analysis
Created several tables and graphs to show monthly and LTM revenue and volume by channel and product, shipping trends, ASP, Late order % and individual product segment analysis
Provided additional insights and easily readable graphs and tables which helped the client to build a better sense of the numbers and take more informed decisions
The Challenges We Overcame
The major hurdles faced by the TresVista team were:
Unorganized and inconsistent data which made it difficult to breakdown and make sense of the numbers required for the analysis
Time hindrance due to Microsoft Excel's inability to manage large data sets
Difficulty in standardizing the data and results because of different reporting styles and information provided by the main company and its potential add-on
Understanding the industry by conducting additional research on multiple industry specific jargons and KPIs
To overcome the hurdles faced, the team spent additional time in researching about the industry to understand the companies better and provide a more comprehensive analysis.
Final Product (Sanitized)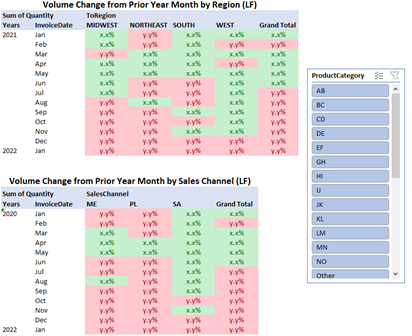 The Value Add – Catalyzing the Client's Impact
Apart from the revenue and volume by product and channel analysis requested by the client, the team also provided a customer churn and retention analysis that helped derive the conclusion that while the company is successfully retaining its client base, it is struggling to find new customers. The team also prepared a geographical analysis showing the regions that were contributing the most to the downfall and put together a customer analysis presenting the key industries that faced decline in the number of customers.