The Context
The client, a Family Office firm wanted the TresVista team to analyze the financial data and sales of a manufacturing company and provide churn rates for customers. For the sales data, the client wanted to analyze various data points: SKUs, Product Categories, PO, and Unique Customers. The team was also asked to calculate the annual churn rate for customers, conduct an analysis of different product categories, their profitability, growth rates, and concentration, and analyze weekly sales trends for major product categories in contrast to the overalls.
The Objective
To build a template and analyze past and current sales data based on different identifiable metrics.
The Approach
The TresVista team followed the following process:
• Data Categorization: Screened daily sales data points from 2018 to YTD 2022 for different identifying metrics and categorized them
• Data Consolidation: Consolidated the data based on different metrics, into monthly and yearly sales
• Category Analysis: Analysed the different consolidated categories and established trends
• Calculate Churn Rates: Identified unique customers for the business and calculated churn rates across the years
• Visualize Results: Identified top product categories, and customers and visualized their weekly sales trend
The Challenges We Overcame
The major hurdle faced by the TresVista team was that the team received updates on the raw sales data that were highly unstructured and required intensive cleaning.
Final Product (Sanitized)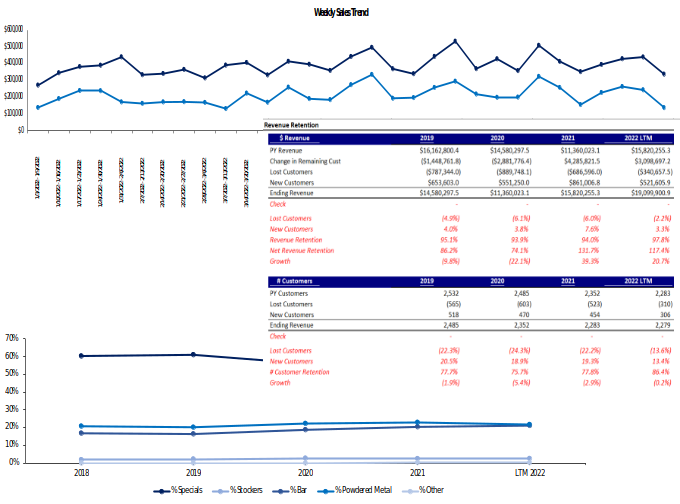 The Value Add – Catalyzing the Client's Impact
The TresVista team suggested identifying and consolidating different locations and subsidiaries of a customer into a single unique customer for depicting a true picture of the customer concentration. The lack of sufficient markers for this made it complicated and a time-consuming process. The team also developed an automated template to reduce turnaround time.