The Context
The client, a Private Credit firm wanted the TresVista team to search for companies that would be interested to refinance their existing loans for growth or M&A and buyouts. The client decided to track the portfolio companies of various publicly traded Business Development Company (BDC) which are essentially an organization that invests in small and medium-sized companies as well as distressed companies. The client also wanted to understand where the credit was trading as a % of the par
The Objective
To create a list of potential refinancing targets by analyzing portfolio companies of a BDC.
The Approach
The TresVista team followed the following process:
• A list of all the listed BDCs in the United States was sourced as per the client's regional requirements
• Portfolio companies were either populated from the BDCs website or their annual filing
• Loan details were found in the BDCs 10-K, either in segments (first lien, second lien, equity investments) or consolidated
• After populating portfolio companies, their industry, and loan details, the population of the contact details for senior management at the portfolio company was done
• Contact information included their name, designation, work email, and LinkedIn profile
The Challenges We Overcame
The major hurdle faced by the TresVista team was sourcing accurate contact information for senior personnel at the portfolio company as there were very few platforms to extract email addresses along with phone numbers.
The TresVista team overcame this hurdle by leveraging apollo.io and hunter.io, since both platforms offer limited searches per user per month, there might be a need to subscribe to their premium plans depending on the client's requirement.
Final Product (Sanitized)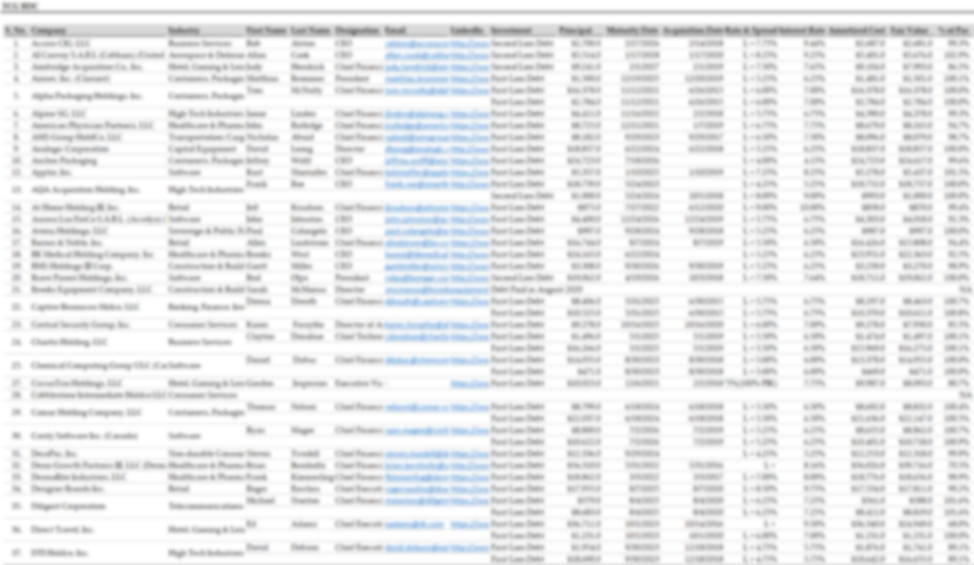 The Value Add – Catalyzing the Client's Impact
The TresVista team got to know about the companies that BDCs usually invest in and analyse the trends in various industries in terms of credit trading at a % of par. On analyzing the trends across BDCs, the team noticed most of the loans trading above par were for companies in the software or business services sectors, and the ones trading below par were manufacturing entities or retail/wholesale businesses.