The Context
The client, a US based Private Equity firm with nearly $6 billion in AUM, wanted the TresVista team to help schedule meetings between the members of client's team and internal/external stakeholders including stakeholders from different locations and time zones. The team received complete calendar access for the host attendee from the client side. The client provided relevant details of the meeting including participants, duration, occurrences and location preference on which the team provided necessary communication to determine the best meeting times and sent out calendar invitations.
The Objective
To schedule meetings between the client and its internal and external stakeholders.
The Approach
The TresVista team followed the following process:
Identified suitable slots using the FindTime tool which was common for all attendees
Confirmed the time slots per results of FindTime poll and followed up in case there was no or delayed response
Shared meeting invites and regularly monitored the invitation acceptance and apprised client with the status
Periodically shared the scheduling tracker with the client with a summary of the scheduled/pending meetings
The Challenges We Overcame
The major hurdles faced by the TresVista team were:
Following up with internal and external attendees to confirm suitable timings
Instances where no slots were available which were suitable for all attendees based on the meeting requirements
Having to perform the entire scheduling process from start till end in the event of rescheduling
The TresVista team overcame these hurdles by following certain best practices. Primarily, when the team did not receive confirmations from the attendees for the time slots, the team would follow up while keeping the host in CC and reached out to the respective attendees' admin support team. When the team was unable to find any convenient slots which would work for everyone due to constraints such as duration, unavailability of required attendees, or unsuitable time frame for the meeting occurrence, the team would suggest alternatives to the host such as changing the duration of the call, or making some attendees optional, or pre/postponing the meeting. The team would collate a list of possible slots which would work for everyone and in the event of rescheduling, could choose any of the other available slots.
Final Product (Sanitized)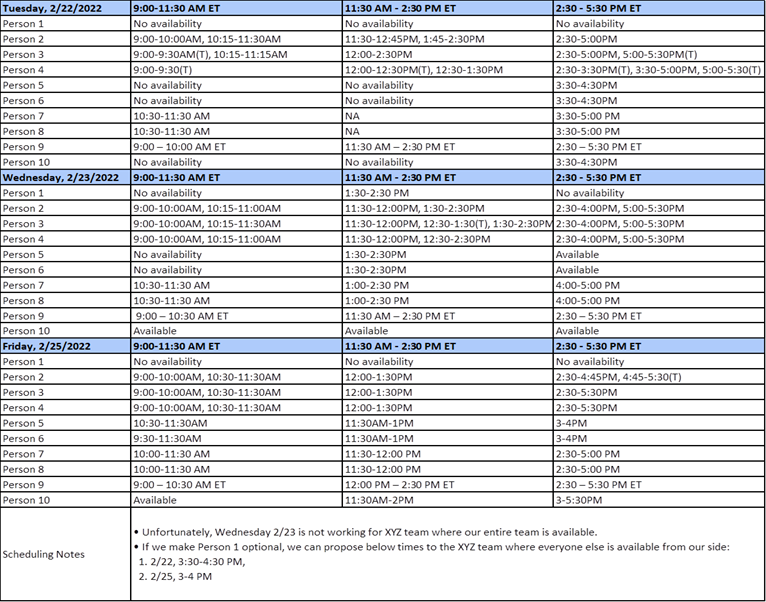 The Value Add – Catalyzing the Client's Impact
The team looped in the host to keep them updated when no confirmation was received from the attendees for time slots and kept them updated only with the most relevant information about the meeting. The team offered different courses of action to be considered such as altering the duration of the meeting by making it shorter to accommodate everyone. The team also checked with the host if some attendees could be made optional for when no suitable slots were available for everyone. Finally, the team maintained a tracker which gave an overview of all upcoming and scheduled meetings with details of all attendees, duration, and occurrences.