The Context
The client, a Private Equity firm, wanted the TresVista Team to research PE activity in the France and BeNeLux region. The client primarily wanted analyses of the year to date (YTD) and past three years' data for deal size, deal volume, and several PE deals in the region. The client also requested the same for the breakdown of deal information by industry and sub-industry and a league table of the most active PE houses in the region.
The Objective
To conduct market research and provide an in-depth review of the PE activity in the France and BeNeLux region.
The Approach
The TresVista Team followed the following process:
Conducted web search and leveraged Pitchbook database to find relevant data/reports
Compared the researched data with the report received from the client
Structured the research into three sections: Fundraising, Deal Making, & Exit Landscape based on the data
Collated all relevant data points and prepared graphical representations for each section
The final deliverable was a 13-slide presentation covering the sections like league table, trends, and appendix
The Challenges We Overcame
The major hurdles faced by the TresVista Team were:
Information about deals data in the France & BeNeLux region, such as the particulars related to the top PE investors, YTD data for the region, etc., was not readily available
Discrepancy in the data sets with substantial differences in the number of deals, deal size, and deal volume present in two reliable reports
The team overcame these hurdles by providing the client with the latest information on the region's YTD data. Further, the team observed that the discrepancy in the two data sets resulted from the different segmentations of the funds (one data set did not include secondary funds, hedge funds, real estate, etc.) and explained the same to the client.
Final Product (Sanitized)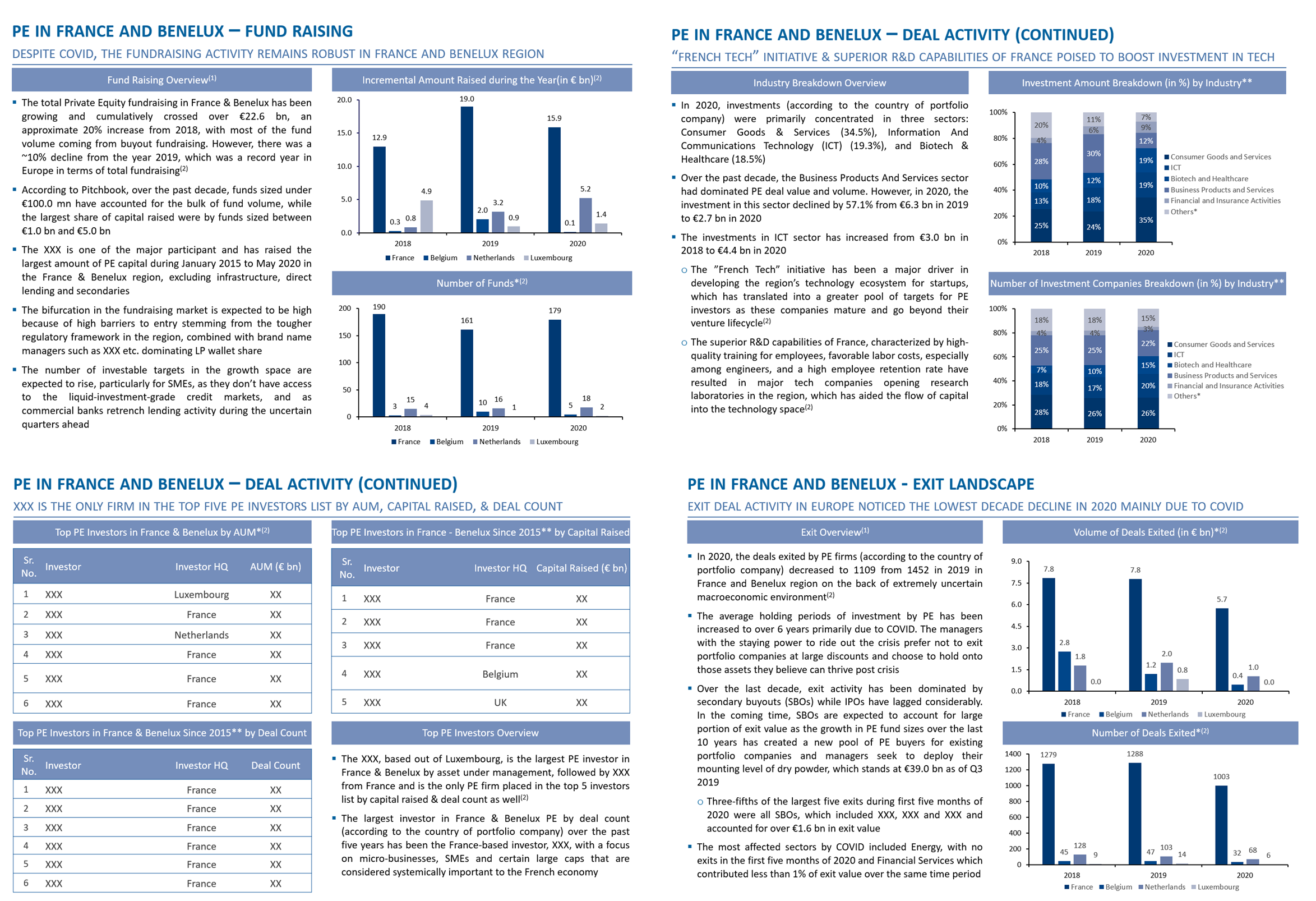 The Value Add – Catalyzing the Client's Impact
The TresVista Team included the industry's high-level trends/drivers, such as the COVID-19 impact, high-growth sectors, cross-border participation, etc., to explain the factors that have influenced the recent deal activity and provided an outlook on the same. Further, to summarize the insights gathered from the extensive research, the team provided the client with an executive summary and shared a similar summary of the research over email for the client's convenience