The Context
The client, a Family Office investing in the Healthcare space in the United States, keeps a close track on recent developments and upcoming trends to analyze new opportunities and their impact on the portfolio.
The task at hand was to get an overview of the SPAC landscape and analyze de-SPAC transactions in the Healthcare sector over the past three years. The client asked for a detailed summary of SPAC transactions in Healthcare sector including transaction details, target company description, management details of the SPAC and target company, and an analysis of the prospectus.
The Objective
To prepare a research report on SPACs and showcase its current landscape and future trends. Other guidelines given were:
Capture SPAC activity of the last decade (through number of SPAC IPO's and money raised)
Analyze the sector focus of de-SPAC transactions in 2020 (Amount of money poured into various sectors via SPACs)
Analyze the reasons for recent boom in the SPAC scenario
Summarize de-SPAC transactions in the Healthcare space
Update details of the current outstanding SPACs, to analyze the companies which are "on the clock" to complete a de-SPAC transaction
The Approach 
The TresVista Team spent time understanding how SPACs work and then gathered public information through a combination of desktop research and third-party databases. Additionally, relevant pieces of information were captured from press releases, articles, and reports published by research agencies and opinion columns. After verifying the relevance of the data, the TresVista Team compiled industry metrics highlighted by the client and presented SPAC transactions in the Healthcare sector in a format that was concise and orderly. The TresVista Team was subsequently engaged to periodically update the transaction details and other statistics.
The Challenges We Overcame
The large volume of unverified data gathered through public sources made it challenging to utilize into the broader process.
The TresVista Team tackled these hurdles by carefully understanding the inner-workings of a SPAC by combing through articles, posts, blogs, and videos and then verified each industry metric with multiple sources.
The Takeaways
The current market scenario is favorable for private companies to go public because of increasing public markets valuations
SPACs are a relatively straightforward medium of getting a private company listed and there has been an increasing volume of de-SPAC transactions since 2020
The valuations of private companies getting listed through SPACs are higher in comparison to the traditional IPO process
The Final Product (Sanitized)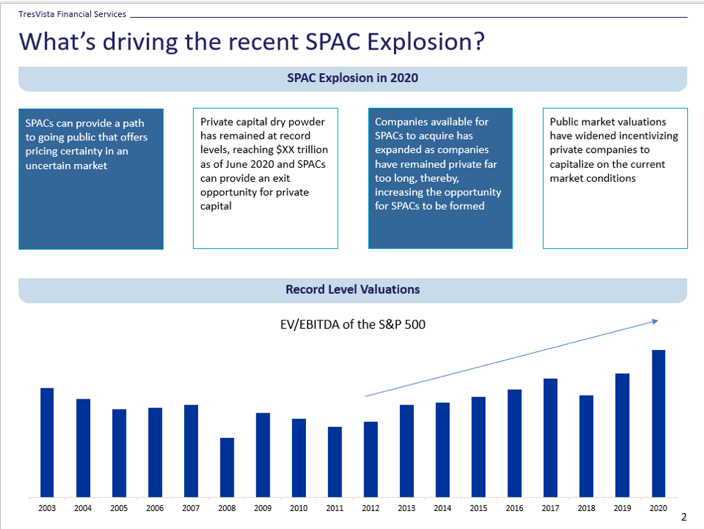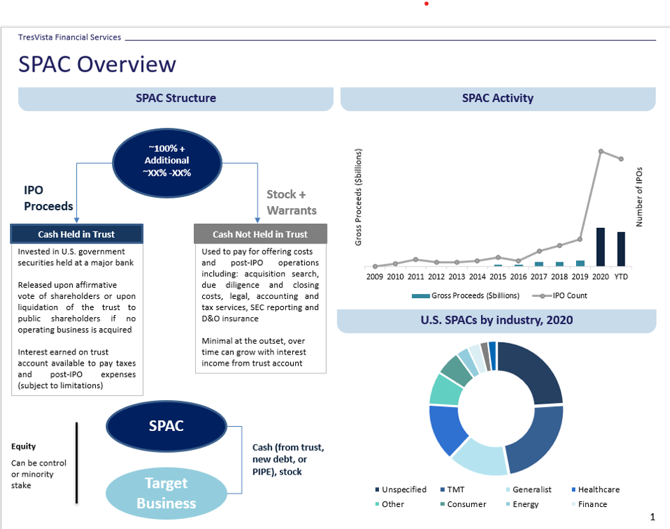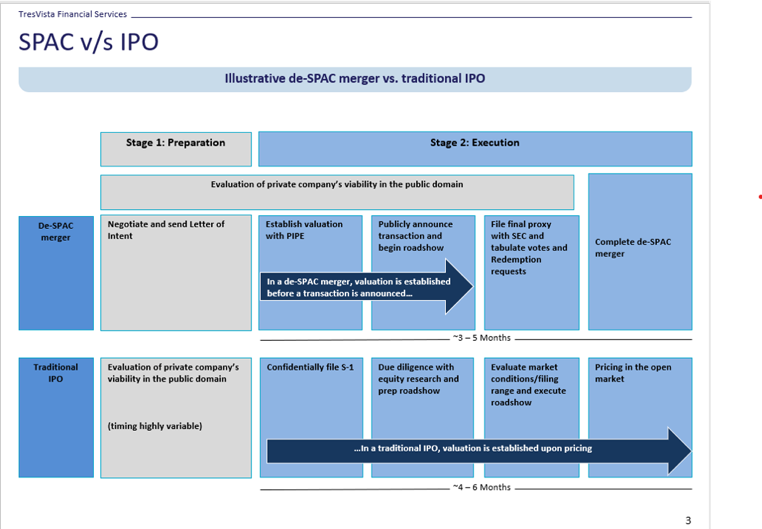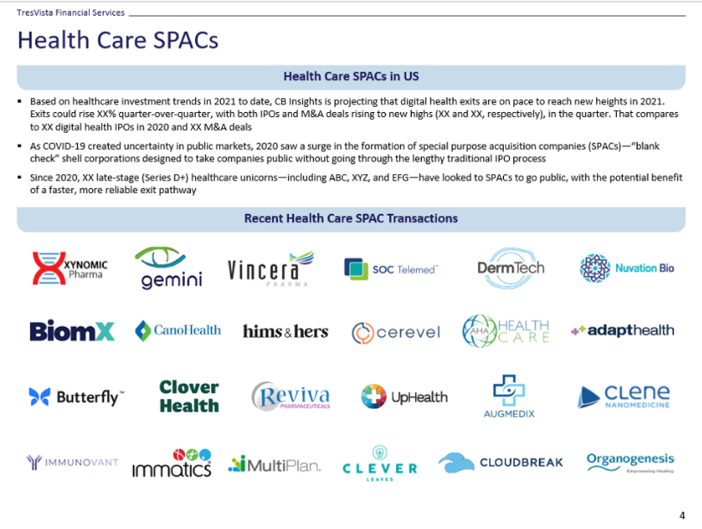 The Value Add – Catalyzing the Client's Impact
Creating a detailed overview of SPAC transactions in the U.S. Healthcare sector and helping the client to track recent developments in the industry
Identifiying higher valuations driving the SPAC industry in contrast to the traditional IPO process and providing a detailed overview of the SPAC transactions and the impact of COVID-19 on the industry